Main Facilities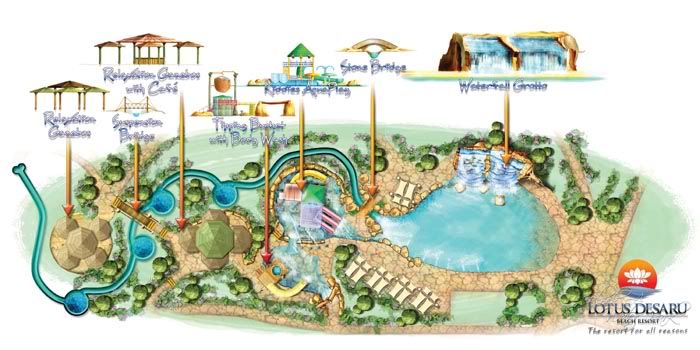 Water Park
Our main attractions is a Water Park. Try our 'splashtacular' Water Park specially designed for fun and excitement with your family and friends and you won't miss and enjoy the Water Park that featuring Giant Coconut Fall, Lazy River, Aqua Play, Stone Bridge, Tipping Coconut with Kidding Slide, Poolside Grotto, and Relaxation Gazebos.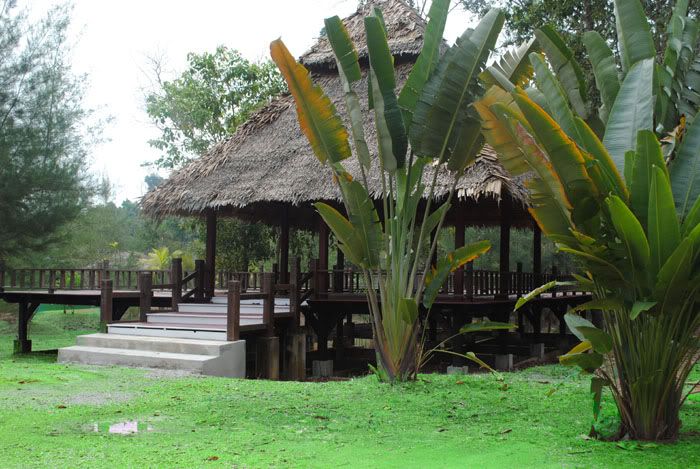 Team Building Park
The 14 acres of Team Building Park will provide you more on outdoor activities. The activities can be arrange with our team, specialize in organising team building activities such as water rafting, survivor experience, obstacle course, explorace, treasure hunt, paintball and more. You also will experience the nature of the forest such as bird watching, camping, jungle trekking and lake fishing.
High Ropes
The high ropes include a seven element obstacle course built on wooden pillars and natural wild trees with 13 meters 42 feet's can be tackled by groups and individuals,with the supervision of excellent trainers and crew. The course is suitable for adults andchildren over 10 years of age or children taller than 150cm and includes the necessarysafety equipment.
Obstacle Course
The training course is filled with obstacles, such as low elementactivities which compliment team work, strategies, planning, coordination, support, selfconfidence and self motivation. The course suitable for individuals or groups to meet their own organizational needs or can be applied as an obstacle race.
Pond Water Rafting
This group activity is geared to bring out the creativity of the participants by building their own raft using recycle items such as drums, plastic pipesand string, to meet their goal achievement as members of the team. This will supportcreativity, multi tasking, team work, and supportive strategies within the organization.
Paintball
With complete safety equipment, participants are exposed to 'real' war field and combatsituations where individual group objectives are met. Suitable for groups requiringimprovement on team spirit, planning and coordination.
Flying Fox
As a true flying fox crossing the lake from one point to another. This is geared to improvethe individual confidence and self-challenge of the participants.
Kayaking
Individual or group activities which are met by their own objective with single and doublekayaking activities. These activities can be organized as a race or group activity.
Jungle Trekking (Day or Night)
Group activities in the jungle with single track, crossing the pond, rivers, hills and crossingover of some natural obstacles. Suitable for adults and children over 10 years.
Camping
Group activities with overnight tents, camp fire, cooking with security and marshals provided. Suitable for group program, attached with some night activities.
Night Drops
Jungle trekking group activities without involving voices of the participants.The activities are conducted in a silent manner. The participants will later be brought outfrom the track and the individual experience will be shared among the team. This will enhance the team's trust, confidence and self-motivation.
Management Games
Group activities which will be carried-out in the jungle or any other area. Begins with ice-breaking activities, ending with some practical activities. The group or individual'spublic speaking, team work, confidence, and trust will be enhanced.
Pond Fishing
Fresh water fishing activities at the lake. Suitable for the individual, families or groups. Equipment such as fishing rods and baits are provided.
Insect catching
Walk through the jungle and catch whatever insects found.
Monkey Feeding
These are seasonal activities which involve the participants to feed the monkeys withfruits and peanuts, depending on weather conditions.
Bird Watching
View the types and the species of birds, depending on the time and weather during the activity.
Extreme Challenge Group
activities which will be carried-out in the team building park. This activity involves physically strength. Extreme challenge which compliment team work,strategies. Planning, coordination, support, self confidence and self motivation.This event suitable for corporate groups to meet their own organizational needs.
For more info and group activities, please call :
Sales & Marketing Department (ext. 1968)
Events & Recreation Department (ext. 1911)

Lotus Suria Ayurveda Spa
Check-out our Lotus Suria Ayurveda Spa. This centre offers you a unique blend of various treatments for the preservation of health and cure of diseases in a natural way that Ayurveda proposes. The spa is provided with a well-facilitated Ayurvedic Spa. This centre is headed by eminent Ayurvedic Physicians and well experienced therapists, expert masseurs and other
medical staffs.